Dental Implants in Monroe, MI
Dental implants are the tooth replacement solution that most closely resembles having your natural teeth. They look and function just like teeth, giving you the stability and beauty you need. Dr. Maria McMullin at McMullin Dental Care in Monroe, Michigan offers dental implants to rebuild and remake your smile.
How Dental Implants Work?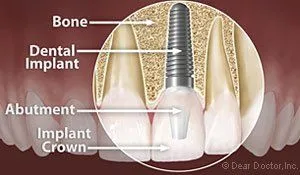 Dental implants are fabricated in multiple parts, beginning with the dental implant screw. The screw is placed in your jaw during a simple in-office procedure. Over time, your bone fuses with the screw, locking it in place. Dental implant screws are made of titanium, a unique, biocompatible material your body won't reject.
This biocompatibility is one of the reasons dental implants are so successful. In fact, they boast a success rate of over 95 percent, according to the American Academy of Oral and Maxillofacial Surgeons. This makes them the most successful surgical implant.
After the dental implant area has healed and the dental implant screw is firmly in place, the implant is capped with a beautiful implant crown. The materials the crown is made with are light reflective and look just like tooth enamel, so your new dental implants will be virtually identical to natural teeth.
Dental implants allow you to replace a single missing tooth or multiple missing teeth. They can also support an existing denture, restoring the stability you need. Dental implants offer many benefits which make them a popular choice for tooth replacement. In addition to their astounding success rate and natural beauty, consider that dental implants are:
Convenient, because you never take them out, unlike partials and dentures
Healthy, because you brush and floss them just like natural teeth
Stable, because they are fixed in place and surrounded by bone
Conservative, because only the dental implant area is prepared

Dental implants also help to maintain the bone in your jaw because your body actually creates more bone to fuse with the dental implant. The increased bone helps maintain a firm jawline and more youthful facial contours, with less facial sagging.
Dental Implants from McMullin Dental Care are the most natural-looking and functioning tooth replacement available.
Call our office in Monroe, MI at (734) 241-5115 to learn more or to book an appointment!